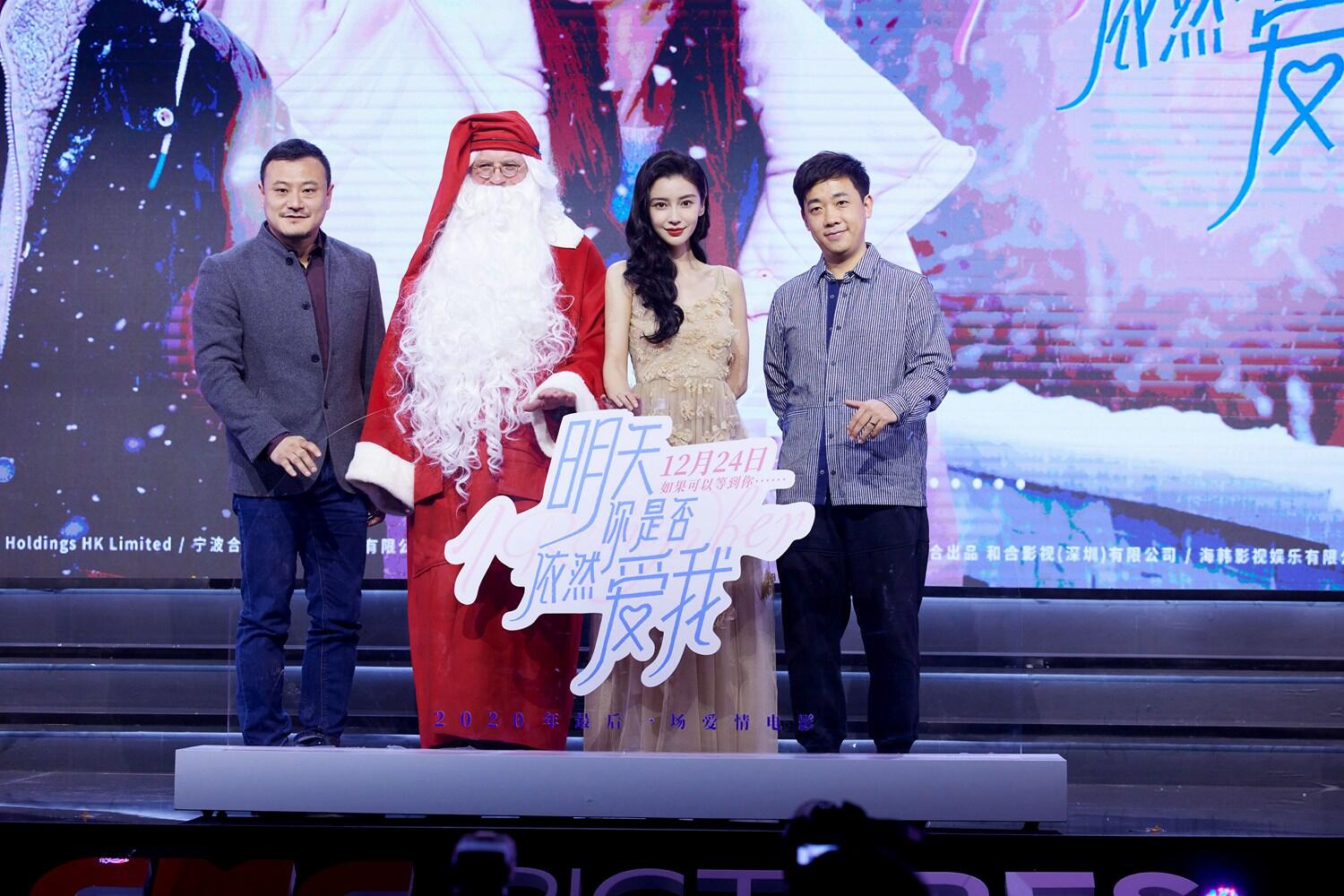 Stars from the movie "I Remember" including actress Angelababy promote the film on stage at CMC Pictures' annual conference in Beijing, Dec. 9, 2020. The romance film will hit Chinese movie theaters on Dec. 24, Christmas Eve. [Photo courtesy of MicroEnt]
CMC Pictures, a film company specializing in the production and foreign distribution of Chinese films, showcased its future projects on Wednesday, including such upcoming movies as "The Meg 2," "Three Old Boys" and "I Remember."
"The Meg 2" is the sequel to the successful 2018 Chinese-American co-production "The Meg." The original installment was directed by Jon Turteltaub, starred Jason Statham and Li Bingbing, and grossed 1.05 billion yuan in China, $143 million in America, and $530 million worldwide.
The follow-up will be directed by Ben Wheatley and may see the original cast reunited. CMC Pictures included the film in its annual showcase of upcoming movies as its key project, and will partner with Discovery to produce merchandise, develop animated content and conduct marketing for "The Meg 2."
Also on CMC Pictures' highlight list of more than 20 future projects are Christmas romance film "I Remember" directed by Zhou Nan and starring Angelababy, Gao Qunshu's hardcore crime movie "Three Old Boys," animator Busifan's new animated feature "Big Rain," and the long-anticipated Chinese sci-fi film "Warriors of Future."
Formerly known as Gravity Pictures, CMC Pictures is the film platform of media and entertainment conglomerate CMC Inc., and is engaged in movie development, production, marketing and promotions, as well as domestic and international distribution of live-action and animated films. Its partners range from top Chinese filmmakers to major Hollywood studios, and experienced producers and directors around the globe.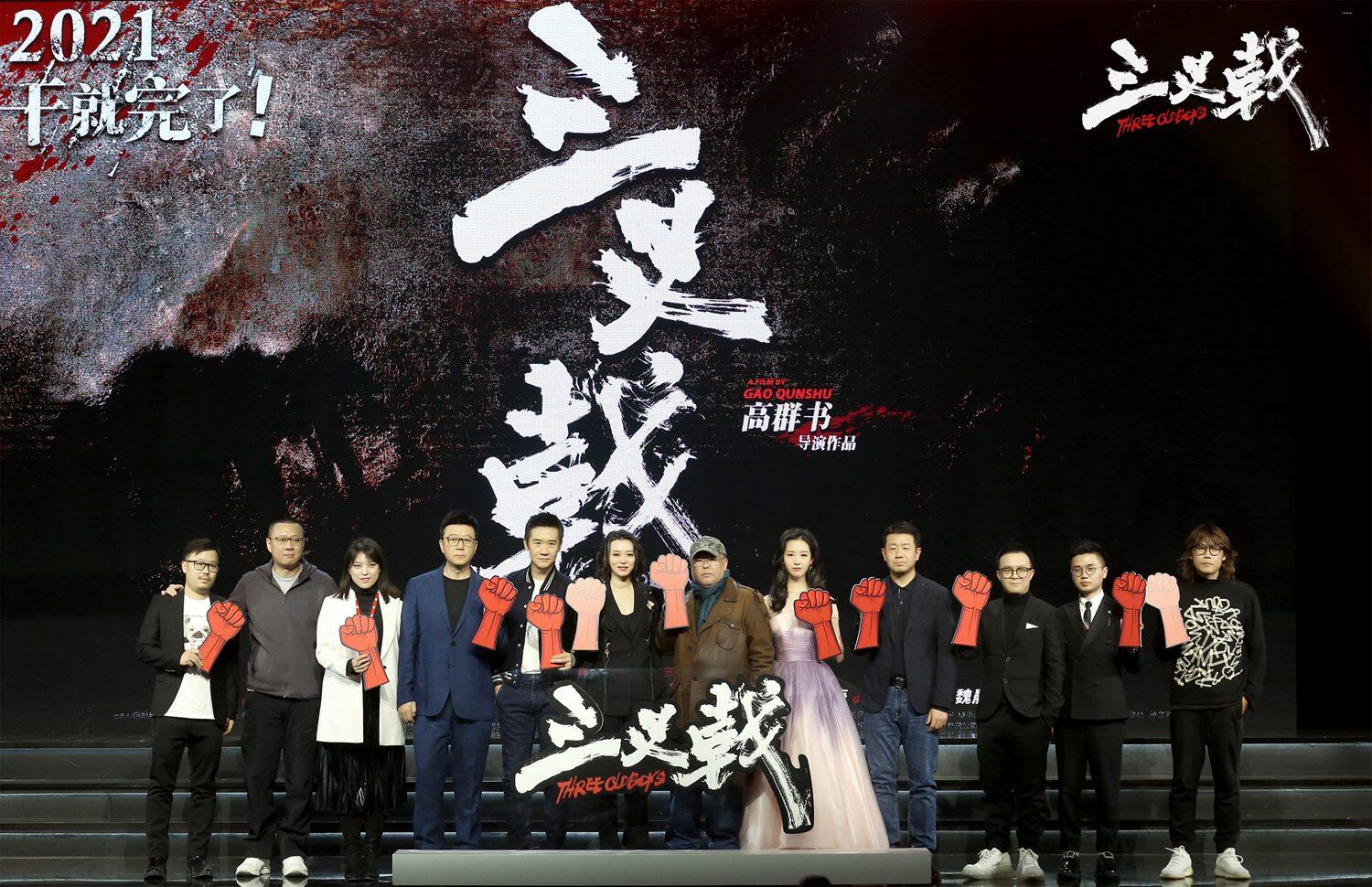 Cast and crew of "Three Old Boys" pose for a group photo on stage at CMC Pictures' annual conference in Beijing, Dec. 9, 2020. [Photo courtesy of MicroEnt]
The company has produced and distributed many commercial and critical successes in China including "The Meg," "Red Amnesia" and "Fleet of Time," while its distribution and marketing network covers 281 cities in 103 countries across five continents. It has so far distributed more than 50 top Chinese films outside of China, such as "The Wandering Earth," "Ip Man 4," "Wolf Warrior 2" and "Ne Zha."
Also on its list revealed Wednesday was Brian Kirk's "21 Bridges" starring the late Chadwick Boseman, who died this August, indicating CMC Pictures' involvement in pushing for its Chinese release. The film has already grossed nearly $50 million worldwide since it was launched in multiple territories in November 2019.
President of CMC Pictures Ying Xujun said the company will help Chinese productions reach global audiences, tell Chinese stories with international vision, and discover and train domestic talents.
"The year 2020 has been a year of change for the whole world, coupled with unknowns and anxiety," Ying said. "But CMC Pictures is excited and full of expectations. It will embrace the future with the courage to change, strengthen its belief and gather strength for the development of the Chinese film industry."